Avocadoes
Pear shaped tropical fruit.
Are a very nutritious fruit for the body and the skin. Avocados contain a nutritious natural fat that lowers the cholesterol level in the blood and they contain a lot of vitamin A, B, & E and is therefore used in a lot of skincare products.
Another name for the avocado is Aligator Pear.
Contains iron and vitamin C.
To fasten the riping proces you put them in a closed plastic bag together with a banana, apple or pear, see bananas.
If you eat an avocado it is nice to sprinkle it with lemon- or limejuice. This way it won't turn brown.
An avocado is really ripe when you can hear the seed rattle if you shake the fruit.
To store them treat avocados like a tropical fruit. See bananas.
Click here to read more about the positive effect of avocados on the cholesterol level in the blood.
For more info check out the site of the California Avocado Commission.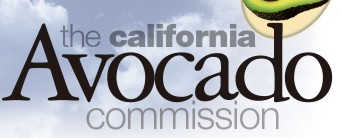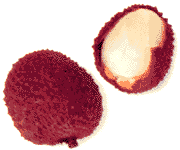 Lychees
Fruit with a sweetish white pulp and a single seed in a thin brown shell.
Lychees originally come from china. The Litchi is sweeter than its hairy brother the rambutan.
Longans are a litchi like, but they are very difficult to export because of its sensitivity and therefore they are not known in Europe. They are called "the cherries of Asia" because local people are very fond of them and they are eaten like cherries in Europe.
The first fruit-culture book was written in 1056 and was about lychees.
Eat them fresh and not out of a can.
Contain much vitamin C and iron.
For more about lychees and other tropical fruit check out the site:
Know & Enjoy Tropical Fruit.

Mangoes
Pear-shaped fruit with flesh which is yellow when ripe. Also called Manga.
Come originally from India and are there still used in all kind of rituals.
Is one of the oldest fruits known in history.
Bhudda sat under a mangotree when he developed awareness and became enlightened.
A mango is "ready for lunch" if it smells good.
Never store them in the fridge.
Treat them as other tropical fruit, see bananas.
Contain much vitamin B, C, and iron.

Rambutans