Grapefruit
Citrus paradisi
Family: Rutaceae

Description & storage
Large round yellow citrus fruit with acid juicy flesh.
Store them at 12 degrees Celcius (=57o F) or if you like in the refrigerator.

Tree
Grapefruit trees can grow up to 15m.

Short history
The grapefruit is supposed to be a young citrus sort that has grown out of a crossing between a pummelo and an orange. You can also see it as an improved pummelo.

Use
Grapefruits are eaten raw and are often used for. Also marmalade is made out of it.

Types of the grapefruit family

White grapefruits;
Red grapefruits, sweeter then white grapefruits;
Pummelo, the father of the grapefruit;
Minneola, A crossing between a tangarine and a grapefruit and can be recognized by

"the little nose". See also oranges. Can be peeled by hand.
Sweeties, are a crossing between the pummelo and the grapefruit. Looks like a green grapefruit and tastes sweeter.

white grapefruit

red grapefruit

minneola

pummelo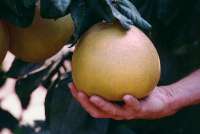 sweety
Peculiar characteristics
Grapefruits can have a negative effect on medication and the Seville orange may interact the same way with some medicines. So if you are taking medicines replace these fruits by other citrus. Clementines for instance. You can read more about this subject at: Grapefruit juice drug interactions faq.
Red grapefruits taste a bit sweeter than yellow grapefruits;
Grapefruits contain much vitamin C;
The pummelo is the largest citrus fruit.